After spending hours in front of the computer, I managed to compile and display the demo project "Futuristic_Ebike" on my 480x272 display. To do this, I used the LVGL and LovyanGFX libraries; I unsuccessfully tried the Arduino_GFX_Library but my display doesn't seem to work well with it.
I should mention that I compiled the sketch using LVGL 8.3.0dev library. These are the problems I have encountered:
when starting the program, the bottom part of the display is not drawn, but touching the screen near the sliders completes the screen rendering. Modifying any text with an event does not change it. This does not happen (so everything works fine) when I set LV_USE_PERF_MONITOR 1 to display CPU usage and FPS count. It seems that screen refresh is missing during the static phase!
Pressing the BTN BG2 button, switching to the battery group, LV_USE_PERF_MONITOR 0, the wave and particulate animations work correctly, and modifying the text with events works fine.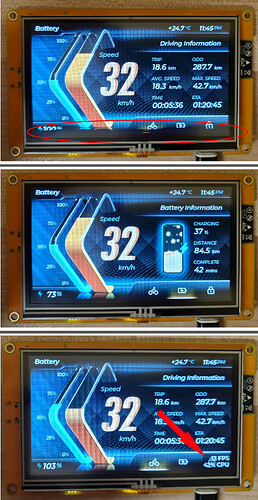 I can't figure out what I need to modify to make the demo work and start a new layout. Please help me! Thank you.
SquareLine Studio 1.2.1
WIN10 - ARDUINO IDE
ESP32s3