Hi guys,
I have a strange issue that I cannot figure out. I have a function that is rotating and moving/translating some objects, the goal being achieving a landscape design (from portrait) when the user choses to do so.
There are around 17 objects in total that are rotating and moving (translating on x & y axes)
At some point, I get the StoreProhibited error and the ESP is rebooting.
I have commented and uncommented various parts of these objects, starting with only modifying one, then 2, then 3, etc.
At first it worked good until like 8 objects, then failed on 9th. After some more tries, it started failing after rotating/translating only 3-4, so it seems kinda random. Might be a memory issue? I have a 16MB ESP32-S3 however… and using the Huge App partition 4MB currently.
Here is how I rotate & translate an object:
lv_obj_set_style_transform_angle(ui_myLabel1, 900, 0);
lv_obj_set_style_translate_x(ui_myLabel1, 200, 0);
lv_obj_set_style_translate_y(ui_myLabel1, -35, 0);
Here are the logs: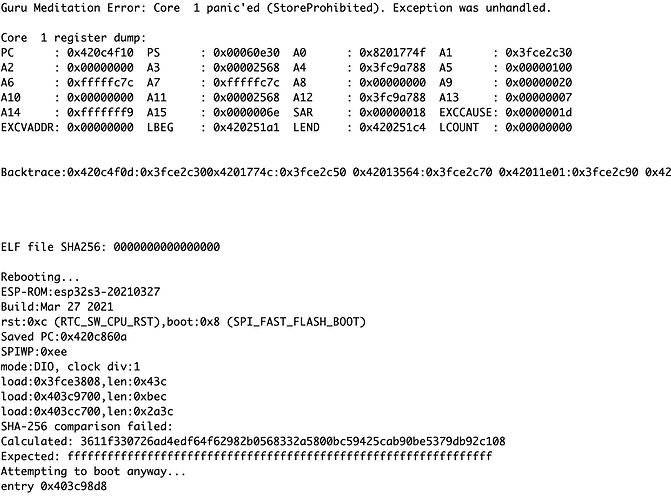 Here is the backtrace decoded


Any feedback is highly appreciated, thank you!
Marius