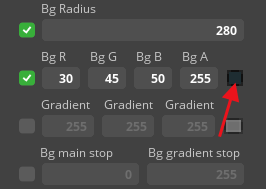 Color selection doesn't work when I click.
Others
**SquareLine Studio version:v1.1.0 beta1
**Operating system:win11
Target hardware:
Did you set "File/Preferences" UI scale to larger than 100%? If so, please try on 100%.
Or is there a scale in Windows?
We already fixed a scale related issue locally, which is not present in the Beta yet. If you have the same issue, it will be fixed in the final release.


The computer screen zoom is 100%.
Squareline has not changed.
The computer screen is zoomed to 100%. At the same time, the squareline is set to 125% and can be used.
Thanks for the feedback, I believe it'll be solved in v1.1.