What do you want to achieve?
A simple replica of what I see on the UI design page in SquareLine Studio on my display board.
I have built a simple UI to illustrate clearly what is going on with SLS. I just cannot get the output to replicate what I see in SLS, actually on the display board.
What have you tried so far?
I have built a demo UI to show the issue: it contains a single screen with a blue border, labels at the top left, top right, centre, bottom left and bottom right. However, when I export the template and UI, then compile and upload this in Arduino2, the result does not match what I see in SLS. There is a peculiar offset in the layout and the top part of the display is not showing on screen, and the bottom part of the design does not extend to the bottom of the actual display. It is as if there is an actual vertical offset (in this configuration) thus the contents of the display buffer are not being forced into correct area of the display - well, that's how I see it!
The offset x and offset y parameters in Project Settings are both set to 0; I have also tried amending these values but they appear to do nothing with the resulting layout, so I am not sure how or where they are used in the SLS generated code.
The screenshot shows on the top - what I see in the design page of SLS, and on the bottom - what I see on my display board. For some reason, that I have been pulling my hair out (what little of it I have left lol) all day, I cannot for the life of me figure out why this is happening!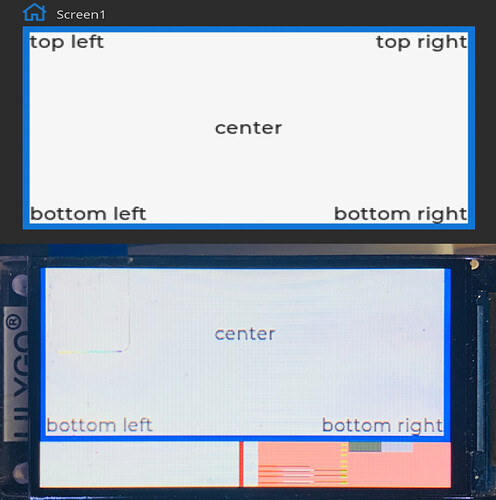 I suspect it is one of those simple things that I just can't seem to put my fingers on.
Could someone please give me some pointers, so I can get this wonderful app up and running.
SquareLine Studio version: 1.2.1
Operating system: MacOSx
Target hardware: LilyGo T-Display ESP32S3